Mengistu's voice
Mengistu Asnake Kibret - GFMER Coordinator for Ethiopia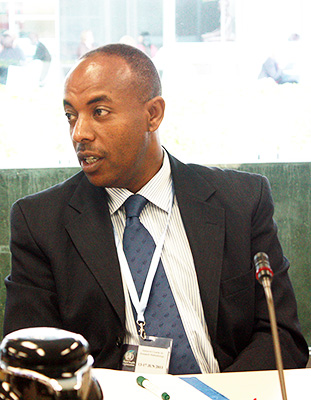 When fate enables a man to dedicate his life to others…
"As a child I often had the dream of being in the field of engineering, and I don't know how but I ended up in the health field", said Mengistu Asnake. Ultimately, he became a public health specialist. Mengistu Asnake currently works as a country representative in Ethiopia for Pathfinder International, a US based international NGO striving for reproductive health. Mengistu is responsible for overseeing the different activities of the organisation and creating partnerships with the government, donors and other stakeholders involved in similar activities. Mengistu is involved in many voluntary activities and this demonstrates what a humble person he is, entirely dedicated to others: "I am very interested in helping people and working with people". Among these voluntary activities, he is the elected President of the World Federation of Public Health Associations (WFPHA), member of the Editorial Board for the Ethiopia Journal of Health Development, Advisor and External Examiner for Graduate studies in Public Health and population studies at Addis Ababa University as well as member of the Advisory council for the Ethiopian Public Health Association (EPHA).
Moreover, Mengistu is also a GFMER coordinator for his country, Ethiopia, which consists in spreading the message on the importance of the different GFMER courses and advising participants currently attending the course to the best of his ability. He also contributed in creating the opportunity for health workers from different universities to participate in the pre-eclampsia and eclampsia online course.
His encounter with GFMER…
Mengistu heard about the GFMER courses from previous trainees. He was driven by a very important course relating to his organisation program activities focused on sexual and reproductive health. The course objectives and his daily activity goals matched and created a great interest in attending the course. He was expecting to improve his knowledge and skills on sexual and reproductive health training and research. Today Mengistu networks with experts, which exceeded his expectations in terms of what he would get out of the course. Indeed, the course enabled him to meet several people, such as facilitators and coordinators who worked for the course and many other colleagues with whom to share knowledge and experiences on various course topics. Furthermore, it inspired his motivation to volunteer within the GFMER organisation as a country coordinator and also helped him to meet some course participants from his own country. Attending the course has allowed him to improve skills in reviewing scientific papers and writing technical briefs. Above all, Mengistu is convinced of the importance of taking courses and getting certification on research ethics and an in-depth view on adolescent sexual reproductive health.
When a man seeks to make a difference…
In order to help his country to improve medical education and research, Mengistu primarily contributes voluntary time as a GFMER coordinator. The participants use the knowledge, the skills and the feedback from Mengistu and other coordinators in their daily activities. This work will have a huge impact specifically for participants from the higher learning institutions where they can easily use the lessons from this course to teach their students and use the different materials in the course for wider audiences who are unable to attend similar courses. When Mengistu talks about the situation in Ethiopia in terms of Reproductive health, he explains the high rates of maternal mortality and child illness, prevailing poverty and low awareness on sexual reproductive issues, which are all related to limited access to services like family planning.
Mengistu believes that working in a very wide geographical area to reach the different community members and creating knowledge and awareness to make a change in people's behaviour will help to solve the issues relating to reproductive health within his country. Above all, he is convinced that increasing access to services for those who need family planning services and also coordinating services are the most important elements on the road to resolving these health issues.