Diana Encalada Soto
GFMER Coordinator for Ecuador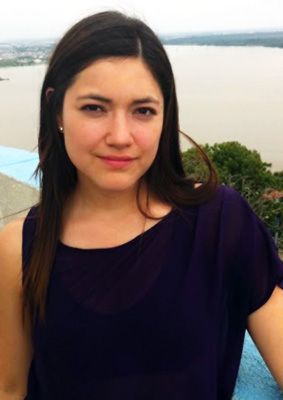 Diana Encalada Soto, MD, MHA
Medico Evaluador Hospital Jose Carrasco Arteaga
GFMER Country Coordinator for Ecuador
Senior Teacher Assistant PPCR HMS
dianaencalada@hotmail.com - diana.encaladasta@ppcr.hms.harvard.edu
I have an MD degree from the University of Cuenca-Ecuador (2010) and a Masters in Health Administration for Local Development from the Technical University of Loja, UTPL (2013) at the moment I am pursuing an OBGYN residency in the US for 2016 while I am working as an Auditing Physician for the Jose Carrasco Arteaga Social Security Hospital in Cuenca-Ecuador.
My interests are Gynecology/Obstetrics, sexual and reproductive health for adolescents and research for which I have been involved in different research projects:
Project CERCA (Community-embedded Reproductive health Care for Adolescents in Latin America) a European Union funded, multicentric project working to develop primary health care to improve the responsiveness to the sexual and reproductive health needs of adolescents in Cuenca-Ecuador, Bolivia and Nicaragua (2012-2013).
Senior Teacher Assistant for the Principles and Practice of Clinical Research Course for Harvard Medical School since 2013.
I was a student in the GFMER in the Training Course in Sexual and Reproductive Health Research course in 2013 and have been involved as a Country coordinator since 2014. I believe this course is an incredible opportunity to strengthen your knowledge and skills in both Sexual, Reproductive Health and Reseach and I will be delighted to assist you along the ride!
Publications
Nelson, Erica; Ballesteros, Marcos; Edmonds, Alex; Encalada, Diana; Rodríguez, Octavio; The Unintended Consequences of Sex Education: An Ethnography of a Development Intervention in Latin America. Anthropol Med. 2014; 21(2):189-201.
Encalada, Diana, Manual on Sexual and Reproductive Health and Communication Skills for Parents or Caregivers of Adolescents, Ecuador, 2013. (Produced as part of M.H.A.)
Encalada, D. Medicina Complementaria: Desafíos y Oportunidades. (Complementary Medicine: Challenges and Opportunities ) Rev. Ateneo. Vol. 15. N°1. Marzo 2013. ISSN N° NA 1390.4396
Méndez, F, Encalada, D. Incidencia de trauma maxilofacial en pacientes ingresados en el servicio de cirugía plástica área craneofacial del Hospital Luis Vernaza (Incidence of maxillofacial trauma patients admitted to the craniofacial plastic surgery in Luis Vernaza Hospital) Guayaquil. Rev. Médica Hosp. José Carrasco Arteaga. Rev Medica HJCA. Vol. 4. Enero 2013. ISSN 1390-6445
Encalada D., Sarmiento M. J. Interrogantes de los jóvenes sobre salud sexual y reproductiva. (Adolescents' questions on sexuality and reproductive health) Boletín N°4 Proyecto CERCA. 2013
Vega B., Encalada D,. Sarmiento M.J. Características del inicio de relaciones sexuales en adolescentes escolarizados de seis colegios del cantón Cuenca, 2011. (Characteristics of sexual onset in adolescent students in six high schools in the canton of Cuenca, 2011) Proyecto CERCA. Revista de la Universidad de Cuenca)
Vega B., Encalada D., Auquilla, N., Cárdenas O,. Verdugo A., Quizhpe A. Análisis exploratorio de los determinantes del comportamiento sexual y reproductivo de los adolescentes de 6 colegios de la ciudad de Cuenca - Ecuador 2012. (Exploratory analysis of the determinants of sexual and reproductive behavior of adolescents 6 schools in the city of Cuenca - Ecuador 2012) Proyecto CERCA Universidad de Cuenca.
Vega B, Encalada D, Sarmiento M. Nudos Críticos para la atención en Salud Sexual y Reproductiva para adolescentes Proyecto CERCA. (Critical Issues for Sexual and Reproductive Health Care for Teenagers) Cuidado de la salud Reproductiva para adolescentes enmarcado en la comunidad, CERCA Project. 2013.
Links