Adam Balen
Chair - EWG: PCOS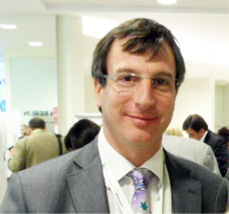 Adam Balen, MB,BS, MD, DSc, FRCOG
Professor of Reproductive Medicine and Surgery, Leeds Teaching Hospitals, UK
Adam Balen is a full time National Health Service Consultant Gynaecologist with subspecialty accreditation in Reproductive Medicine and Surgery and was awarded a personal chair by The University of Leeds in 2004. For many years he has had a particular interest in the causes and management of polycystic ovary syndrome – covering the full spectrum from the effects of the syndrome during adolescence and adult life on the menstrual cycle, fertility, body weight and cosmetic aspects together with the fundamental effects that PCOS may have on quality of life and long term health. He has also developed a special interest in disorders of sexual development and differentiation and runs a supra-regional referral service. He is immediate past Chair of the ESHRE Special Interest Group in Reproductive Endocrinology, an associate editor of Human Reproduction and The British Journal of Obstetrics & Gynaecology and Chair of the Policy and Practice Committee of the British Fertility Society. Author of 11 books and over 230 published papers. Books include Infertility in Practice (4th edition to be published in 2013), Reproductive Endocrinology for the MRCOG and Beyond (2nd edition 2007), The Multi-Disciplinary approach to Paediatric and Adolescent Gynaecology (2004) and Polycystic Ovary Syndrome, RCOG Study Group (2010).
Ten most recent publications
Pasquali R, Stener-Victorin E, Yildiz B, Duleba AJ, Hoeger K, Mason H, Homburg R, Hickey T, Franks S, Tapanainen J, Balen AH, Abbott DH, Legro RS. PCOS Forum: research in polycystic ovary syndrome today and tomorrow. PEACOCKS Summary. Clinical Endocrinology 2011; 74: 424-433.
Wijeyaratne CN, Seneviratne RDA, Dahanayake S, Kumarapeli V, Palipane E, Kuruppu N, Yapa C, Balen AH. Phenotype and metabolic profile of South Asian women with polycystic ovary syndrome (PCOS): results of a large database from a specialist Endocrine Clinic. Human Reproduction 2011; 26: 202-213.
Sivayoganathan D, Maruthini D, Glanville JM, Balen AH. Full investigation of patients with polycystic ovary syndrome (PCOS) presenting to four different clinical specialties reveals significant differences and undiagnosed morbidity: Human Fertility 2011; 14: 261-265.
Fauser BCJM, Alper MM, Ledger W, Schoolcraft WB, Zandvliet A, Mannaerts BM; Engage Investigators (Balen AH). Pharmacokinetics and follicular dynamics of corifollitropin alfa versus recombinant FSH during ovarian stimulation for IVF. Reproductive Biomedicine Online; 2011 22:s23-31.
Fauser BCJM, Tarlatzis BC, Rerbar RW, Legro RS, Balen AH, Lobo R, Carmina E, Chang J, Yildiz B, Laven JSE, Boivin J, Petraglia F, Wijeyaratne C, Norman RJ, Dunaif A, Franks S, Wild RA, Dumesic D, Barnhart K. Consensus on women's health aspects of polycystic ovary syndrome (PCOS): the Amsterdam ESHRE/ASRM-Sponsored 3rd PCOS Consensus Workshop Group. Simultaneous Publication Human Reproduction 2012; 27: 14-24. and Fertility & Sterility 2012; 97: 28-38.
Homburg R, Hendriks ML, König TE, Anderson RA, Balen AH, Brincat M, Child T, Davies M, D'Hooghe T, Martinez A, Rajkhowa M, Rueda-Saenz R, Hompes P, Lambalk CB. Clomifene citrate or low-dose FSH for the first-line treatment of infertile women with anovulation associated with polycystic ovary syndrome: a prospective randomized multinational study. Human Reproduction 2012; 27: 468-473.
Crosignani PG, Baird DT, Balen AH, Escobar-Morreale HF, Evers JLH, Fauser BCJM, Franks S, Glasier A, Homburg R, La Vecchia C. Health and Fertility in WHO Group 2 anovulatory women. ESHRE Capri Workshop Group. Human Reproduction Update 2012; (in press).
Morley L, Tang T, Yasmin E, Hamzeh R, Rutherford AJ, Balen AH. Timing of human chorionic gonadotropin (hCG) hormone administration in IVF protocols using GnRH antagonists: A randomised controlled trial. Human Fertility 2012; 15: 134-139.
Tang T, Lord JM, Norman RJ, Yasmin E, Balen AH. Insulin-sensitising drugs (metformin, rosiglitazone, pioglitazone, Dchiro-inositol) for women with polycystic ovary syndrome, oligo amenorrhoea and subfertility. Cochrane Database of Systematic Reviews 2012, Issue 5. Art. No.: CD003053. DOI: 10.1002/14651858.CD003053.pub5.
Tang T & Balen AH. Use of metformin for women with polycystic ovary syndrome; Human Reproduction Update, 2012; doi: 10.1093/humupd/dms040.
Links