The picture of the week
Family Planning 2020 Workshop, Addis Ababa, Ethiopia
Onyinye Edeh - School of Public Health, University of Washington, Seattle, USA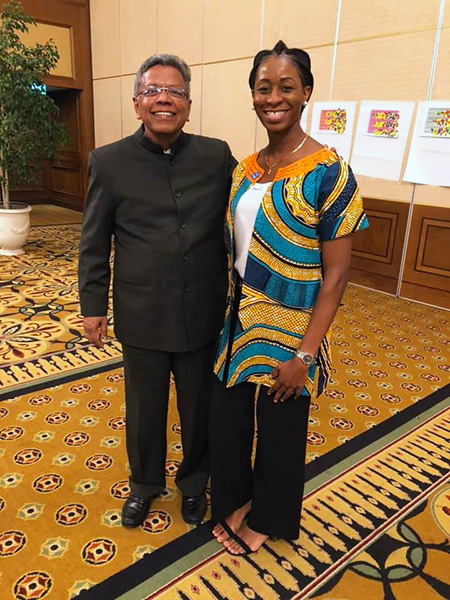 Six years ago, I sent an email to this man (whom I had only heard of from my classmate and friend Silvia Patricia). In the email, I introduced myself, presented my academic background and told him that I was interested in opportunities in Adolescent Sexual and Reproductive Health. He wrote back to me and offered some ideas. I ran with them and my life has never been the same.
I soon found myself enrolled in the seven month online Gfmer Switzerland program with an opportunity to visit the World Health Organization (WHO) for the first time in September 2014.
Dr. Venkatraman Chandra-Mouli is an Adolescent Health Researcher who has worked at the WHO since 1993. He is a leading voice in adolescent reproductive health and Comprehensive Sexuality Education (CSE) and has authored numerous publications, including evidence reviews, global policy and programmatic guidance.
Dr. Chandra-Mouli is someone I will call my mentor; he has been an inspiration and guiding light on my adolescent health journey. From a distance, I have provided him with periodic updates on my travel and learning adventures. When he saw me today and learned of my new position with the Family Planning 2020 Group, he was delighted. I remain amazed at how our professional relationship has thrived beyond seas and borders. For this I am very grateful.
It was an honor to meet him in person this week. He remembers our email exchanges very well and we will be moving our conversations forward in our continuous quest to give adolescents and young people the best and healthiest lives they deserve.
I share this picture to encourage someone to take a leap! If you want something, go for it. The worst anyone can say to you is "No" and you will still be fine.
I am yet to absorb the full impact of Dr. Chandra-Mouli's influence in my career path, and I look forward to the "more" that lie ahead! Distance is never a barrier.
Cheers to a man whose passion for adolescent health and well being is more contagious than mine.