Salamat Isiaka-Lawal
Kwara State Specialist Hospital Sobi, Ilorin, Nigeria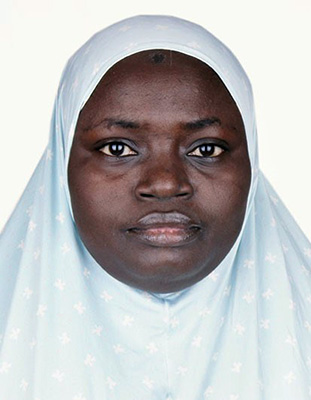 Salamat Isiaka-Lawal, MBBS, PGDipPallMed, FWACS, FMCOG, Mphil PallMed (in view)
Consultant Obstetrician/Gynaecologist, Kwara State Specialist Hospital, Sobi, Ilorin, Kwara State, Nigeria
salamat.lawal@gmail.com
I was born on the 24th of June 1974. I obtained my first degree (MBBS) from Ahmadu Bello University Zaria, Kaduna State, Nigeria in the year 2002. I proceeded with residency training in Obstetrics and gynaecology from 2005 – 2011 and obtained fellowships of both the West African College of Surgeons and the Postgraduate Medical College of Nigeria in the year 2012. I have a special interest in gynaecologic oncology. I obtained a postgraduate diploma in Palliative Medicine in the year 2014 from the University of Cape Town, South Africa. I am currently awaiting the final result for MPhil in Palliative Medicine from same University and hope to graduate by June 2017.
My present duties include general Obstetrics and gynaecology practice at a public health facility, training of house officers, nurses and medical officers. I also offer pain and symptom control for gynaecology cancer patients and other cancer patients in collaboration with their primary physicians.
Publications
Adeniran AS, Aboyeji AP, Fawole AA, Balogun OR, Adesina KT, Isiaka-Lawal S. Evaluation of parturient perception and aversion before and after primary cesarean delivery in a low resource country. Int J Gynaecol Obstet, 2016. 132(1):77-81.
Ameen HA, Isiaka-Lawal S, Okesina BS, Shittu RO, Sanni MA, Uthman MMB, Bolarinwa OA, (2015). Willingness to support antenatal blood donation among married men in a metropolitan city in North-Central, Nigeria. Nigerian Postgraduate Medical Journal. 22(3).
Isiaka-Lawal S, Ameen HA, Okesina BS, Shittu RO, Sanni MA, Uthman MMB, OA Bolarinwa. (2014). Antenatal blood donation: pregnant mother's attitude, fears and preferences. Tropical Journal of Health Sciences. 21(2).
Isiaka-Lawal SA, Nwabuisi C, Fakeye O, Saidu R, Adesina KT, Ijaiya MA, Jimoh AAG, Omokanye LO, (2014). Pattern of sexually transmitted infections in human immunodeficiency virus positive women attending antenatal clinics in north-central Nigeria. Sahel Medical Journal. 7(4): 145-150.
Shittu RO, Sanni MA, Odeigah AG, Sule AG, Jimoh KO, Aderibigbe SA, Isiaka-Lawal S, (2014) Medical examination findings among workers in a pharmaceutical industry in Nigeria, West Africa. Research Journal of Pharmaceutical, Biological and Chemical Sciences. 5 (3): 1660-1668.
Isiaka-Lawal S, Adesina KT, Saidu R, (2013). Abdominal hysterectomy at University of Ilorin Teaching Hospital: A 5-year review. Savannal Journal of Medical Research and Practice, (2013). 2:12-19.
Shittu RO, Salami AK, Odeigah LO, Mahmoud AO, Adeniran SA, Nyamngee AN, Isiaka-Lawal S, (2013). Prevalence and pattern of dermatological lesions in relationship to CD4 cell counts among newly diagnosed HIV patients in Nigeria, West Africa. World Journal Life Sci & Medical Research. 3(1):26-32.
Omokanye LO, Saidu R, Jimoh AAG, Salaudeen S, Isiaka-Lawal S, Raji HO, Ijaiya MA, Panti AA, Balogun R, (2012). The relationship between socio-demographic characteristics and malaria parasite density among pregnant women in Ilorin, Nigeria. International Journal of Tropical Medicine. 7 (2): 64-68.
Munirdeen Ijaiya, Kike T Adesina, Hadijat O Raji, Abiodun P Aboyeji, Abdulwaheed O Olatinwo, Abiodun S Adeniran, Idowu O. Adebara, Salamat Isiaka-Lawal, (2011) Duration of labor with spontaneous onset at the University of Ilorin Teaching Hospital, Ilorin, Nigeria. Annals of African Medicine ; 10(2).
Olatinwo AW, Fakeye OO, Isiaka-Lawal SA, (2009). Thyroid diseases in preganacy: a review. East Afr Med J Jan; 86(1): 37-40.
Isiaka-Lawal S, KT Adesina, R Saidu, Ijaiya MA, Jimoh AAG, Aderibigbe SA, (2009.) A Review of Twin Gestation in a Tertiary Health Institution in North Central Nigeria. Research Journal of Medical Sciences 3 (6): 198-201.
Ibrahim HM, Jimoh AAG, Isiaka-Lawal S, Okesina S, Balogun RO,Raji HO, (2009). Caeserean section at University of Ilorin Teachimg Hospital: A 2-year review. Nigerian Journal of Health Sciences. 9 (2): 19-22.
Links