Jean-José Wolomby-Molondo
Department of Obstetrics and Gynaecology, University Clinics of Kinshasa, Kinshasa, Democratic Republic of Congo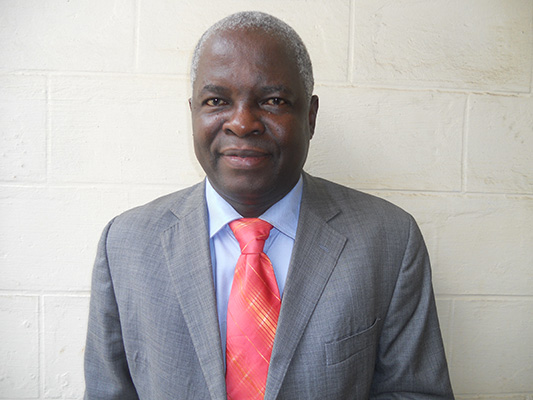 Jean-José Wolomby-Molondo, MD, Obstetrician/Gynecologist
Senior Lecturer at the School of Medicine/University of Kinshasa, D. R. Congo
Practitioner at the University Clinics of Kinshasa, in the Ob/Gyn Department/Reproductive Physiology Unit
wolomby@yahoo.com
Congolese (DR Congo), I did all my basic education in my Country : primary schooll, middle school, school of Medicine and Ob/Gyn specialization. I did a stage on Andrology at Leuven, a stage on tubal ligation by laparoscopy at Morocco. I attended an International course on Reproductive Biology and Reproductive Medicine at Geneva Foundation for Medical Education and Research, the 3th Annual Workshop on Research Methods and the 13th Workshop on Spermatology at South Africa. I attended also online courses on the W.H.O. new model of antenatal care, on Pedagogic Integration of Technologies of Information and Communication, on Sexual and Reproductive Health Research and on Adolescent Sexual and Reproductive Health.
Currently, I'm Senior Lecturer at the School of Medicine/University of Kinshasa and practitioner at the University Clinics of Kinshasa, in the Ob/Gyn Department/Reproductive Physiology Unit.
Publications in journals
Fawole B, Nafiou I, Machoki M, Wolomby-Molondo J-J, Mugerwa K, Neves I, Amokrane F, Shah A, Souza JP, Mathai M, Gulmezoglu M. Unmet need for induction of labor in Africa: secondary analysis from the 2004 - 2005 WHO Global Maternal and Perinatal Health Survey (A cross-sectional survey). BMC Public Health. 2012 Aug 31;12(1):722. Available from: http://www.biomedcentral.com/1471-2458/12/722/abstract
Souza JP, Gülmezoglu AM, Carroli G, Lumbiganon P, Qureshi Z. The world health organization multicountry survey on maternal and newborn health: study protocol. BMC Health Serv Res. 2011;11286. Available from: http://www.biomedcentral.com/1472-6963/11/286
Kulier R, Khan KS, Gulmezoglu AM, Carroli G, Cecatti JG, Germar MJ, Lumbiganon P, Mittal S, Pattinson R, Wolomby-Molondo J-J, Bergh A-M, May W. A cluster randomized controlled trial to evaluate the effectiveness of the clinically integrated RHL evidence -based medicine course. Reprod Health. 2010;78. Available from: http://www.reproductive-health-journal.com/content/7/1/8
Shah A, Fawole B, M'imunya JM, Amokrane F, Nafiou I, Wolomby J-J, Mugerwa K, Neves I, Nguti R, Kublickas M, Mathai M. Cesarean delivery outcomes from the WHO global survey on maternal and perinatal health in Africa. Int J Gynaecol Obstet. 2009 Dec;107(3):191–7.
Shah A, Faundes A, Machoki M, Bataglia V, Amokrane F, Donner A, Mugerwa K, Carroli G, Fawole B, Langer A, Wolomby JJ, Naravaez A, Nafiou I, Kublickas M, Valladares E, Velasco A, Zavaleta N, Neves I, Villar J. Methodological considerations in implementing the WHO Global Survey for Monitoring Maternal and Perinatal Health. Bull World Health Organ. 2008 Feb;86(2):126–31. Available from: http://www.ncbi.nlm.nih.gov/pmc/articles/PMC2647388/
Tshilombo KM, Mputu L, Nguma M, Wolomby M, Tozin R, Yanga K. [Delivery of pregnant women in Zaire who have previously had cesareans. An analysis of 145 cases]. J Gynecol Obstet Biol Reprod (Paris). 1991;20(4):568–74.
Wolomby M, Mputu L. Sperm characteristics of infertile and fertile Zairian men at the University Clinic of Mont Amba (Kinshasa). Andrologia. 1987 Jun;19(3):362–8.
Mputu L, Wolomby M, Mahekele K. [Contribution of the male component to the infertility of couples in Kinshasa (Zaïre)]. J Gynecol Obstet Biol Reprod (Paris). 1986;15(1):51–8.
Links