Marilena Urso
Centro de Colaboração em Saúde, Maputo, Mozambique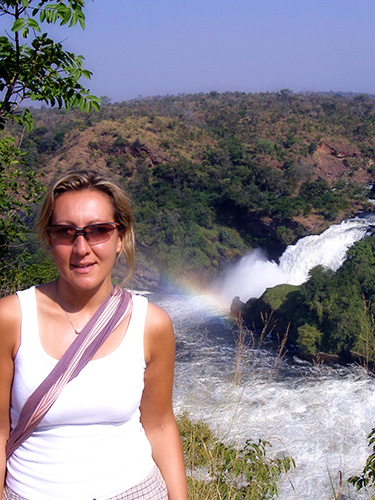 Marilena Urso, MD, Obstetrician/Gynecologist
PMTCT Technical Program Manager, Centro de Colaboração em Saúde, Maputo, Mozambique
marilena_urso@yahoo.it
I am a gynecologist and studied in Milan Bicocca University both for the graduate and postgraduate training. Actually I am enrolled in the Master in Public Health at Universidade Eduardo Mondlane here in Maputo, Mozambique.
I spent six months on a research project on cerebral metastasis of choriocarcinoma at the Trophoblastic disease unit at the department of Medical Oncology of Charing Cross Hospital/Imperial College in London and six months at the Department of Obstetrics and gynecology of Yale University, Connecticut. After this experience I partecipated and presented papers at 2 meetings of the International society for the study of trophoblastic disease (ISSTD) in Boston and Hong Kong.
During my last year of postgraduation I volunteered in Matany Hospital, Karamoja, North Uganda and I decided to spend more years working in Africa.
Since 2007 I worked in Beira in a project of an Italian NGO called CUAMM, DOCTORS WITH AFRICA and Italian Foreign Ministry in support of the faculty of Medicine of Catholic University of Mozambique and the Central Hospital of Beira.
In my daily work I worked with my colleagues to improve the quality of care through training both of medical and nursing staff and students of medical and nursing school.
Actually I am working since August 2012 at Centro de Colaboracao em Saude as PMTCT technical program manager in Maputo, in a CDC funded program.
I believe I am deeply enriched by this particular pattern of experience because it has exposed me to different types of health systems and policies which give me good analytical skills important to make positive changes and has exposed me also to big university centers stressing the issue of training and formation as essential to improve reproductive health everywhere in the world.
Publications in journals
Bonazzi C, Urso M, Dell'Anna T, Sacco S, Buda A, Cantú MG. Placental site trophoblastic tumor: an overview. J Reprod Med. 2004 Aug;49(8):585-8.
Cantù MG, Marinetti E, Perego P, Valente MG, Urso M, Landoni F. Retroperitoneal fibrosis localised to the pelvis, imitating a gynaecologic tumour. BJOG. 2003 Feb;110(2):224-6.
Zanetta G, Fiana L, Urso M, Ratti M. Transvaginal color Doppler ultrasound for de novo ovarian carcinoma. How a good chance can be missed. Minerva Ginecol. 2002 Feb;54(1):59-61.
Links