Kahraman Ülker
Kafkas University School of Medicine, Kars, Turkey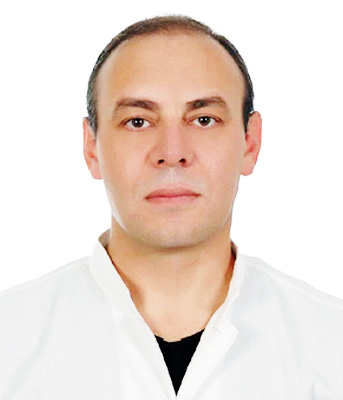 Kahraman Ülker, MD, Obstetrician/Gynecologist, Infertility and Gynecologic Endoscopic Surgery
Assistant Professor of Obstetrics and Gynecology, Kafkas University School of Medicine, Kars, Turkey
kahramanulker@hotmail.com
Dr. Kahraman Ülker had MD degree from Istanbul University Cerrahpasa School of Medicine in 1994. He received MD degree in Obstetrics and Gynecology in 2000 and in 2009 he began to work in Kafkas University School of Medicine, Kars with a degree of assistant professor. He has published 30 papers (in national and international journals) and 51 presentations (in national and international meetings and congress) in different aspects of Obstetrics and Gynecology. He serves as a reviewer and editorial board member in Kafkas Journal of Medical Sciences, Asian Pacific Journal of Reproduction and World Journal of Minimal Access Surgery. He is the associate editor of Kafkas Journal of Medical Sciences.
Articles published in international peer-reviewed journals
Temur I, Ulker K, Sulu B, Karaca M, Aydin A, Gurcu B. A giant cervical nabothian cyst compressing the rectum, differential diagnosis and literature review. Clin Exp Obstet Gynecol. 2011;38(3):276–9.
Temur I, Ülker K, Volkan I, Karaca M, Ersöz M, Gül A, Adıgüzel E. The first case of Horn-Kolb Syndrome in Turkey, diagnosed prenatally at the 23rd week of a pregnancy: A very rare and unusual case far from the original geography. Am J Case Rep. 2012;13:106-8.
Ulker K, Gül A, Ciçek M. Correlation between the duration of maternal rest in the left lateral decubitus position and the amniotic fluid volume increase. J Ultrasound Med. 2012 May;31(5):705–9.
Ulker K, Hüseyinoğlu U, Kılıç N. Management of benign ovarian cysts by a novel, gasless, single-incision laparoscopic technique: keyless abdominal rope-lifting surgery (KARS). Surgical endoscopy. 2012 Jun 26.
Ulker K, Temur I, Gül A. Effects of modernisation and new population policies on reproductive health in Kars, Turkey. Eur J Contracept Reprod Health Care. 2012 Jun;17(3):187–96.
Ulker K, Temur I, Karaca M, Ersöz M, Volkan I, Gül A. Effects of maternal left lateral position and rest on amniotic fluid index: a prospective clinical study. J Reprod Med. 2012 Jun;57(5-6):270–6.
Ülker K, Akyer ŞP, Temur İ, Tan T, Karaca M, Adıgüzel E, Gül A. First trimester diagnosis of parapagus diprosopus dibrachius dipus twins with cranirachischisis totalis by three-dimensional ultrasound. J Obstet Gynaecol Res. 2012 Feb;38(2):431–4.
Ülker K, Çeçen K, Temur İ, Gül A, Karaca M. Effects of the maternal position and rest on the fetal urine production rate: a prospective study conducted by 3-dimensional sonography using the rotational technique (virtual organ computer-aided analysis). J Ultrasound Med. 2011 Apr;30(4):481–6.
Links