Farah Shakur
Edinburgh Fertility and Reproductive Endocrine Centre, Edinburgh Royal Infirmary, United Kingdom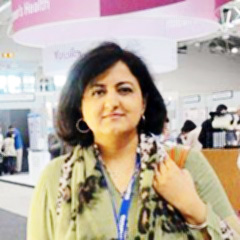 Farah Shakur, MBBS, MRCOG, FCPS, MCPS
Clinical fellow in IVF unit, Edinburgh Fertility and Reproductive Endocrine Centre, Edinburgh Royal Infirmary, UK
farahnajaf@hotmail.com
I graduated from Nishtar medical college, Pakistan.
After my MBBS I did supervised training for FCPS. After passing FCPS, I worked in 3 different medical schools as lecturer obstetrics and gynaecology for 3 years and I was involved in teaching of medical students. I worked 3 years in Ministry of health Saudi Arabia and since 2009 I am working in UK. In UK I worked 3 years in general obstetrics and gynecology and now since august 2012 am working in IVF unit. EFREC is one of the popular IVF centre of UK. Infertiliy is my special area of interest and am keen to pursue my further career in this demanding subspeciality.
I am also doing MSC in reproduction and development from university of Bristol.
I have always been involved in academic activities. I have many presentations (oral and poster) in international conferences. I would like to do some research work related to infertility and as my hospital is affiliated with university of Edinburgh so there is always opportunity to be involved in research and publications.
Links