Nitin Raithatha
Pramukh Swami Medical College, Karamsad, Anand, India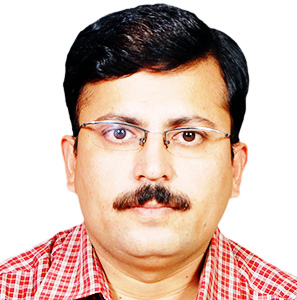 Nitin Raithatha, MBBS, MD Gynec, Graduate Certificate in Clinical Investigation
Professor of Obstetrics and Gynecology, Pramukh Swami Medical College, Karamsad, Anand, India
amanraithatha@gmail.com
Born and raised in Gujarat ,India studied medicine in Ahmedabad, India and completed post-graduation in Obstetrics and Gynec in 2000. Completed "Graduate certificate in clinical investigation" through University of South Florida by online course. Received AITRP scholarship. From 2000 to 2002 worked as fully time clinician at government and NGO hospitals. In 2002 joined government medical college, Bhavnagar, India as Assistant professor. Become trainer for Comprehensive EMOC and trained medical officers. From 2008 to june2012 worked as associate professor in O& G at Pramukh Swami Medical College, Karamsad, Gujarat, India.
In 2008 successfully obtained certificate as assessor for National accreditation Board of Hospitals, Quality council of India. Many assessments of different hospitals done as assessor or principal assessor across the India. Now appointed as Technical committee member of NABH for july 2012 to june2014.
Recently in June,2012 promoted as Professor in Obstetrics and Gynecology of Pramukh Swami Medical College, Karamsad, India. Also have responsibilities as member of Human research ethics committee, Hospital quality assurance council and coordinator of student mentorship program. Moreover actively involved in different curriculum reform integrated course delivery and other institutional activities and research.
Actively involved in FOGSI- Federation of Obstetrics and Gynecology societies of India – Family and welfare committee activities also. Vice president of Anand Obstetrics and Gynecology Society for 2012 – 2014.
Links
Patel DSM, Vaishnav DSB, Shah DKN, Modi DN, Raithatha DNS. Congenital Malformation - A Biological Accident (A 6 years 9 months study in a rural based tertiary care hospital). National Journal of Integrated Research in Medicine. 2011;2(5):106–9. Available from: http://www.scopemed.org/?mno=20790
Raithatha DN, Patel DM, Patel DR, Chauhan DLN. Velamentous insertion of umbilical cord in twin pregnancy. National Journal of Integrated Research in Medicine. 2011;2(4):121–3. Available from: http://www.scopemed.org/?mno=13821