Charles Muteshi
Department of Obstetrics and Gynecology, Aga Khan University Hospital, Nairobi, Kenya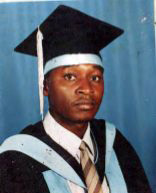 Charles Muteshi, MD, Obstetrician/Gynecologist
Clinical Instructor, Department of Obstetrics and Gynecology, Aga Khan University Hospital, Nairobi, Kenya
murwa2006@yahoo.co.uk
I am a generalist Obstetrician and Gynecologist with a special interest in the fields of reproductive medicine and endocrinology as well as operative gynecology, with a bias towards minimal access surgery. I have graduated with an MBChB from Moi University, Kenya and I have pursued a Master of Medicine degree at the Aga Khan University, College of Health Sciences, East Africa. Currently I am a clinical instructor in the department of Obstetrics and Gynecology at Aga Khan University, Nairobi.
Publications in journals
Murage A, Muteshi MC, Githae F. Assisted reproduction services provision in a developing country: time to act? Fertil Steril. 2011 Oct;96(4):966–8.
Links