Jean Kalibushi Bizimana
Butare University Teaching Hospital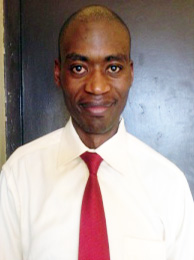 Jean Kalibushi Bizimana, MD, Obstetrician/Gynecologist
Scientific Committee President, Maternity at Butare University Teaching Hospital (BUTH)
Facilitator in Health Technology Management at BUTH
bizijeankali@yahoo.fr
I am Dr Jean Kalibushi Bizimana MD. I did my primary school at Kolwezi, secondary school at Minor seminary of Kanzenze and University of Lubumbashi where I did medical undergraduate study and those studies were done in RD Congo but medical postgraduate study was done at National University of Rwanda. Currently I am working as Gynecologist and Obstetrician in BUTH and we are doing a research with Pr Kakoma on Cervical cancer screening.
Publications in journals
Kakoma JB, Gakwaku A, Kalibushi BJ, Ramazani K. Pelvis and anthropometric study in Rwandan women at prenatal care setting in the southern province of Rwanda (Huye District). Rwanda Medical Journal. 2010;69(1):13-25.
Links