Audu Idrisa
Department of Obstetrics and Gynecology, University of Maiduguri, Nigeria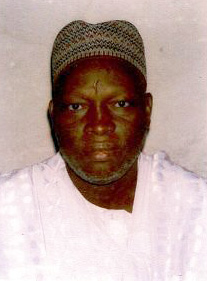 Audu Idrisa, MD, Obstetrician/Gynecologist
Professor of Obstetrics & Gynecology, University of Maiduguri
Honorary Consultant Obstetrician & Gynecologist, University of Maiduguri Teaching Hospital, Maiduguri, Nigeria
auduidrisa@yahoo.com
I have been involved in teaching at undergraduate and postgraduate in obstetrics & gynecology for over twenty years. I have been involved in medical research and clinical services for almost thirty years my main field of interest is infertility and reproductive endocrinology.
Publications in journals indexed in PubMed
Bukar M, Idrisa A. Postpartum hypocalcaemia in Maiduguri, North-eastern Nigeria: a 10-year review. J Obstet Gynaecol. 2010;30(7):690–3.
Geidam AD, Yawe KD, Adebayo AE, Idrisa A. Hormonal profile of men investigated for infertility at the University of Maiduguri in northern Nigeria. Singapore Med J. 2008 Jul;49(7):538–41.
Ambe JP, Idrisa A, Usman JD. A review of preterm admissions into special care baby unit, in University of Maiduguri Teaching Hospital: a four year experience. Niger J Clin Pract. 2007 Sep;10(3):229–33.
Idrisa A, Kyari O, Kawuwa MB, Usman HA. Preparation for induction of labour with an unfavourable cervix using a Foley's catheter. J Obstet Gynaecol. 2007 Feb;27(2):157–8.
Idrisa A, Emeka O, Abimiku BM. Endometrial sampling at a teaching hospital in northern Nigeria. West Afr J Med. 2000 Sep;19(3):212–5.
Chama CM, El-Nafaty AU, Idrisa A. Caesarean morbidity and mortality at Maiduguri, Nigeria. J Obstet Gynaecol. 2000 Jan;20(1):45–8.
Ezenwaka CE, Idrisa A, Okara GC. Maternal plasma glycaemia and fetal outcome in north-eastern Nigeria. J Obstet Gynaecol. 1998 Sep;18(5):455–9.
Sanchez PA, Idrisa A, Bobzom DN, Airede A, Hollis BW, Liston DE, Jones DD, Dasgupta A, Glew RH. Calcium and vitamin D status of pregnant teenagers in Maiduguri, Nigeria. J Natl Med Assoc. 1997 Dec;89(12):805–11.
Ziari SA, Mireles VL, Cantu CG, Cervantes M 3rd, Idrisa A, Bobsom D, Tsin AT, Glew RH. Serum vitamin A, vitamin E, and beta-carotene levels in preeclamptic women in northern nigeria. Am J Perinatol. 1996 Jul;13(5):287–91.
Jackson DW, Sciscione A, Hartley TL, Haynes AL, Carder EA, Blakemore KJ, Idrisa A, Glew RH. Lysosomal enzymuria in preeclampsia. Am J Kidney Dis. 1996 Jun;27(6):826–33.
Harry TO, Bukbuk DN, Idrisa A, Akoma MB. HIV infection among pregnant women. A worsening situation in Maiduguri, Nigeria. Trop Geogr Med. 1994;46(1):46–7.
Idrisa A, Omigbodun AO, Adeleye JA. Pregnancy in hemoglobin sickle cell patients at the University College Hospital, Ibadan. Int J Gynaecol Obstet. 1992 Jun;38(2):83–6.
Links