Euzebus Chinonye Ezugwu
Department of Obstetrics and Gynecology, College of Medicine, University of Nigeria, Enugu Campus, Nigeria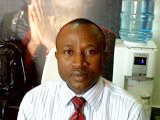 Euzebus Chinonye Ezugwu, MD, Obstetrician/Gynecologist
Lecturer and Honorary Consultant, Department of Obstetrics and Gynecology, College of Medicine, University of Nigeria, Enugu Campus, Enugu State, Nigeria
ezugwueuzebus@yahoo.com
Publications in journals
Ezugwu EC, Onah HE, Ezegwui HU, Nnaji C. Stillbirth rate at an emerging tertiary health institution in Enugu, southeast Nigeria. Int J Gynaecol Obstet. 2011 Nov;115(2):164–6.
Ezugwu EC, Onah H, Iyoke CA, Ezugwu FO. Obstetric outcome following free maternal care at Enugu State University Teaching Hospital (ESUTH), Parklane, Enugu, South-eastern Nigeria. J Obstet Gynaecol. 2011 Jul;31(5):409–12.
Ezugwu EC, Onah HE, Odetunde IO, Azubuike JC. Singleton low birth weight babies at a tertiary hospital in Enugu, South East Nigeria. The Internet Journal of Gynecology and Obstetrics. 2010;14(1): Available from: http://www.ispub.com/journal/the-internet-journal-of-gynecology-and-obstetrics/volume-14-number-1/singleton-low-birth-weight-babies-at-a-tertiary-hospital-in-enugu-south-east-nigeria.html
Ezugwu EC, Onah HE, Ezugwu FO, Okafor II. Maternal mortality in a transitional hospital in Enugu, south east Nigeria. Afr J Reprod Health. 2009 Dec;13(4):67–72.
Ezugwu EC, Mutihir JT, Daru PH. Attitude and practice of Pap-smear cervical cancer screening among antenatal patients at the Jos University Teaching Hospital, Jos , Nigeria. Journal of Medicine in the Tropics. 2006;8(2):1-8.
Links