Kingsley Agholor
Central Hospital, Warri, Nigeria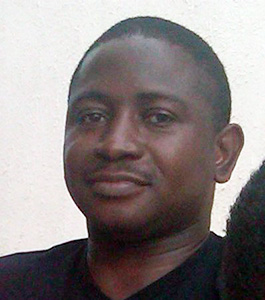 Kingsley Agholor, MD, Obstetrician/Gynecologist
Head of Department of the Anti-Retroviral Therapy (ART) Centre, Central Hospital, Warri, Nigeria
kagholor@yahoo.com
Dr Kingsley Agholor is an obstetrician and gynaecologist; a fellow of the West African College of Surgeons and the Nigerian Postgraduate Medical College in Obstetrics and Gynecology. Dr Agholor was employed as a Consultant Obstetrician and Gynaecologist with the Delta State Hospitals Management Board (HMB) in November, 2010 and was attached to the Central Hospital, Warri. He is currently the Head of Department of the Anti-Retroviral Therapy (ART) Centre in that Hospital. He is also an Adjunct Lecturer in obstetrics and gynaecology with the Delta State University, Abraka.
Between 2005 and 2010, he was a resident doctor at the University of Benin Teaching Hospital where he served as Assistant Secretary General of the Association of Resident Doctors and Chairman of the Judicial Committee. He is currently the Public Relations Officer of the HMB branch of the Medical and Dental Consultants Association of Nigeria.
He is a reviewer to a number of local and international journals and has more than 20 published original research articles with international conference presentations in the field of maternal and reproductive health. Dr Agholor is a highly motivated individual who is very versed in both written and spoken English.
Publications in journals
Ogu R, Okonofua F, Hammed A, Okpokunu E, Mairiga A, Bako A, Abass T, Garba D, Alani A, Agholor K. Outcome of an intervention to improve the quality of private sector provision of postabortion care in northern Nigeria. Int J Gynaecol Obstet. 2012 Sep;118 Suppl 2S121–126.
Agholor K, Omo-Aghoja L, Okonofua F. Rate of negative appendectomy in pregnant women in Benin City, Nigeria. J Obstet Gynaecol Res. 2011 Nov;37(11):1540–8.
Olagbuji BN, Ezeanochie MC, Agholor KN, Olagbuji YW, Ande AB, Okonofua FE. Spousal disclosure of HIV serostatus among women attending antenatal care in urban Nigeria. J Obstet Gynaecol. 2011 Aug;31(6):486–8.
Okonofua F, Lambo E, Okeibunor J, Agholor K. Advocacy for free maternal and child health care in Nigeria--Results and outcomes. Health Policy. 2011 Feb;99(2):131–8.
Okonofua F, Omo-Aghoja L, Bello Z, Osughe M, Agholor K. Self-reporting of induced abortion by women attending prenatal clinics in urban Nigeria. Int J Gynaecol Obstet. 2010 Nov;111(2):122–5.
Ezeanochie MC, Olagbuji BN, Agholor KN, Okonofua FE. Attaining MDG 5 in northern Nigeria: need to focus on skilled birth attendance. Afr J Reprod Health. 2010 Jun;14(2):9–15.
Gharoro EP, Agholor KN. Aspects of psychosocial problems of patients with vesico-vaginal fistula. J Obstet Gynaecol. 2009 Oct;29(7):644–7.
Links