EWG: IUI with or without ovarian stimulation
Willem Ombelet
Chair - EWG: IUI with or without ovarian stimulation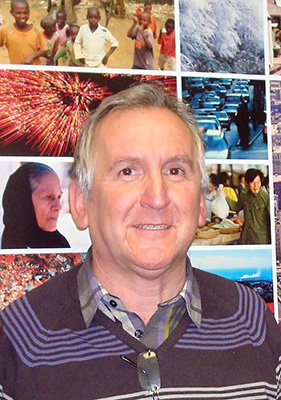 Willem Ombelet, MD, Gynecologist
Genk Institute for Fertility Technology, Department of Obstetrics and Gynaecology, ZOL, Campus St Jan, Genk, Belgium
Willem Ombelet started his career researching infertility and IVF in 1984 in Pretoria, South Africa. Since 1987, he has been working in the Department of Obstetrics and Gynaecology at the St. Jans Hospital in Genk, Belgium. In 1998, he obtained his PhD degree at the University of Leuven on "The value of sperm morphology and other semen parameters in diagnosis and treatment of human subfertility". He became the Head of the Department of Obstetrics and Gynaecology in Genk, in 1999. From 2001 until 2004 he was the President of the Belgian Society of Obstetrics and Gynaecology.
Willem Ombelet (co-) authored 98 international peer-reviewed articles and was a (co-)-editor of 18 books. He received 2 international awards.
Dr Ombelet is also the founder of the Genk Institute for Fertility Technology and the Walking Egg Foundation.
He organized nine "Andrology in the Nineties" meetings and different workshops on assisted reproduction.
He is a consultant and Professor at the Universities of Hasselt, Ghent and Antwerp.
Since 2006 he is the coordinator of the ESHRE Special Task Force on "Developing countries and infertility". Presently he is a board member of the Belgian Society of Obstetrics and Gynaecology (BSRM) and the Belgian College of Reproductive Medicine.
Willem Ombelet is also the editor-in-Chief of the international scientific journal "Facts, Views & Vision in ObGyn".
Ten most recent publications
Ombelet W. Global access to infertility care in developing countries: a case of human rights, equity and social justice. F,V&V in ObGyn. 2011 Dec;3(4):257-66.
Creemers E, Nijs M, Vanheusden E, Ombelet W. Cryopreservation of human sperm: efficacy and use of a new nitrogen-free controlled rate freezer versus liquid nitrogen vapour freezing. Andrologia. 2011 Dec;43(6):392-7.
Nijs M, De Jonge C, Cox A, Janssen M, Bosmans E, Ombelet W. Correlation between male age, WHO sperm parameters, DNA fragmentation, chromatin packaging and outcome in assisted reproduction technology. Andrologia. 2011 Jun;43(3):174-9.
Nijs M, Creemers E, Cox A, Janssen M, Vanheusden E, Van der Elst J, Ombelet W. Relationship between hyaluronic acid binding assay and outcome in ART: a pilot study. Andrologia. 2010 Oct;42(5):291-6.
Dhont N, Luchters S, Ombelet W, Vyankandondera J, Gasarabwe A, van de Wijgert J, Temmerman M. Gender differences and factors associated with treatment-seeking behaviour for infertility in Rwanda. Hum Reprod. 2010 Aug;25(8):2024-30.
Nijs M, Creemers E, Cox A, Franssen K, Janssen M, Vanheusden E, De Jonge C, Ombelet W. Chromomycin A3 staining, sperm chromatin structure assay and hyaluronic acid binding assay as predictors for assisted reproductive outcome. Reprod Biomed Online. 2009 Nov;19(5):671-84.
Nijs M, Creemers E, Cox A, Janssen M, Vanheusden E, Castro-Sanchez Y, Thijs H, Ombelet W. Influence of freeze-thawing on hyaluronic acid binding of human spermatozoa. Reprod Biomed Online. 2009 Aug;19(2):202-6.
Ombelet W. Reproductive healthcare systems should include accessible infertility diagnosis and treatment: an important challenge for resource-poor countries. Int J Gynaecol Obstet. 2009 Aug;106(2):168-71.
Connolly M, De Vrieze K, Ombelet W, Schneider D, Currie C. A cost per live birth comparison of HMG and rFSH randomized trials. Reprod Biomed Online. 2008 Dec;17(6):756-63.
Nijs M, Franssen K, Cox A, Wissmann D, Ruis H, Ombelet W. Reprotoxicity of intrauterine insemination and in vitro fertilization-embryo transfer disposables and products: a 4-year survey. Fertil Steril. 2009 Aug;92(2):527-35.
Links