EWG: Male subfertility work-up
Christopher LR Barratt
Chair - EWG: Male subfertility work-up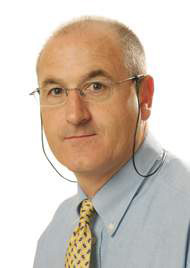 Christopher LR Barratt, PhD
Professor of Reproductive Medicine, Medical School, University of Dundee, Scotland
Editor-in-Chief, Molecular Human Reproduction
Professor Barratt is a past chairman of the British Andrology Society and a previous Member of the Human Fertilisation and Embryology Authority (2003-2009). He has been on the Editorial Board of Human Reproduction, Human Fertility, Biology of Reproduction, Human Reproduction Update and Journal of Andrology. He was a member of the editorial board for the 4th (2000) and 5th (2010) edition of the "WHO Laboratory Manual of Semen Analysis and Cervical Mucus Examination".
He has (co) authored over 150 original articles in peer-review journals on male fertility, sperm function and assisted conception.
Ten most recent publications
Proposal of guidelines for the appraisal of SEMen QUAlity studies (SEMQUA). Sánchez-Pozo MC, Mendiola J, Serrano M, Mozas J, Björndahl L, Menkveld R, Lewis SE, Mortimer D, Jørgensen N, Barratt CL, Fernández MF, Castilla JA; on behalf of the Special Interest Group in Andrology (SIGA) of the European Society of Human Reproduction and Embryology. Hum Reprod. 2012 Oct 9. [Epub ahead of print]
2-APB-potentiated channels amplify CatSper-induced Ca2+ signals in human sperm. Lefievre L, Nash K, Mansell S, Costello S, Punt E, Correia J, Morris J, Kirkman-Brown J, Wilson SM, Barratt CL, Publicover S. Biochem J. 2012 Sep 3. [Epub ahead of print]
Sperm are promiscuous and CatSper is to blame…. Barratt CL, Publicover SJ. EMBO J. 2012 Mar 13;31(7):1624-6.
When and how should new technology be introduced into the IVF laboratory? Harper J, Magli MC, Lundin K, Barratt CL, Brison D. Hum Reprod. 2012 27(2):303-13.
ESHRE special interest group for andrology basic semen analysis course: a continued focus on accuracy, quality, efficiency and clinical relevance. Barratt CL, Björndahl L, Menkveld R, Mortimer D.Hum Reprod. 2011 26(12):3207-12.
Absolute SILAC-compatible expression strain allows Sumo-2 copy number determination in clinical samples. Matic I, Jaffray EG, Oxenham SK, Groves MJ, Barratt CL, Tauro S, Stanley-Wall NR, Hay RT. J Proteome Res. 2011 10(10):4869-75.
Sperm motility: things are moving in the lab! Publicover SJ, Barratt CL. Mol Hum Reprod. 2011 17(8):453-6.
Reproductive biology: Progesterone's gateway into sperm. Publicover S, Barratt C. Nature. 2011 471(7338):313-4.
DPY19L2 deletion as a major cause of globozoospermia. Koscinski I, Elinati E, Fossard C, Redin C, Muller J, Velez de la Calle J, Schmitt F, Ben Khelifa M, Ray PF, Kilani Z, Barratt CL, Viville S. Am J Hum Genet. 2011;88(3):344-50.
Human oocytes express ATP-sensitive K(+) channels. Du Q, Jovanović S, Sukhodub A, Barratt E, Drew E, Whalley KM, Kay V, McLaughlin M, Telfer EE, Barratt CL, Jovanović A. Hum Reprod. 2010 25(11):2774-82.
Links