GFMER Global Consultation on WHO Infertility Guidelines - Expert Working Groups (EWG)
Bart Fauser
Guidelines steering committee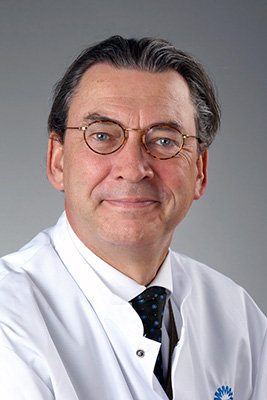 Bart CJM Fauser, MD, PhD, Gynecologist
Professor of Reproductive Medicine, University of Utrecht, The Netherlands
Chair Division of Woman & Baby (Dpts Reproductive Medicine & Gynecology, Obstetrics, Neonatology), University Medical Center, Utrecht
Professor of Reproductive Medicine, University of Utrecht, The Netherlands. Chair Division of Woman & Baby (Dpts Reproductive Medicine & Gynecology, Obstetrics, Neonatology), University Medical Center, Utrecht, (since 2004).
Former Professor of Reproductive Endocrinology and director Center of Reproductive Medicine, Erasmus Medical Center, Rotterdam, The Netherlands (1996-2003); Visiting Professor, University Southampton, UK (since 2010), Saal van Zwanenberg Professor, Center of Reproductive Medicine, Free University, Brussels, Belgium (2003-2008); Visiting Professor, Stanford School of Medicine, Palo Alto, California, USA (1993-1995), and Fulbright post-doctoral Scholar, University of California, San Diego, California (1987-1988).
Former Editor-in-Chief 'Human Reproduction Update' (2001-2007). Major research interest; pathophysiology of human ovarian function. He published around 300 PubMed papers (Hirsch factor 52). Prof. Fauser serves on many international editorial boards, has been active in many international societies. His work has been widely covered in national and international news media.
Ten most recent publications
Fauser BC, Diedrich K, Devroey P et al. (2011). Contemporary genetic technologies and female reproduction. Human reproduction Update 17; 829-847.
Molernaar LM, Broekmans FJ, vDisseldorp J, Fauser BC, Eijkemans MJ, BW Mol (2011). Cost-effectiveness of ovarian reserve testing in IVF: A Markov decision-analytic model. Fertility & Sterility 96; 889-894.
Valkenburg O, Uitterlinden AG, Themmen AP, de Jong FH, Hofman A, Fauser BC, Laven JS (2011). Genetic polymorphisms of the glucocorticoid receptor may affect the phenotype of women with anovulatory polycystic ovary syndrome. Human Reproduction 26: 2902-2911.
Janse F, Eijkemans MJ, Goverde AJ, Lentjes EG, Hoek A, Lambalk CB, Hickey TE, Fauser BC, Norman RJ (2011). Assessment of androgen concentration in women: liquid chromatography-tandem mass spectrometry and extraction RIA show comparable results. European Journal of Endocrinology. 165: 925-933. [IF 3.48; No 40/116 in Endocr & Metab]
Brown ZA, Louwers YV, Fong SL, Valkenburg O, Birnie E, de Jong FH, Fauser BC, Laven JS (2011). The phenotype of polycystic ovary syndrome ameliorates with aging. Fertily & Sterility 96: 1259-1265. (IF 3.96)
Broer SL, Eijkemans MJ, Scheffer GJ, van Rooij IA, de Vet A, Themmen AP, LavenJS, de Jong FH, Te Velde ER, Fauser BC, Broekmans FJ (2011). Anti-Mullerian HormonePredicts Menopause: A Long-Term Follow-Up Study in Normoovulatory Women. Journal of Clinical Endocrinology and Metabolism 96; 2532-2539.
Kasius JC, Broekmans FJ, Sie-Go DM, Bourgain C, Eijkemans MJ, Fauser BC, Devroey P, Fatemi HM. The reliability of the histological diagnosis of endometritis in asymptomatic IVF cases: a multicenter observer study. Hum Reprod. 2011 Oct 24. [Epub ahead of print] PubMed PMID: 22025228.
The Amsterdam ESHRE/ASRM-Sponsored 3rd PCOS Consensus Workshop Group (2011). Consensus on women's health aspects of polycystic ovary syndrome (PCOS). Hum Reprod. 2011 Dec 5. [Epub ahead of print] PubMed PMID: 22147920.
Fauser BC et al. The Amsterdam ESHRE/ASRM-Sponsored 3rd PCOS Consensus Workshop Group (2011). Consensus on women's health aspects of polycystic ovary syndrome (PCOS). Amsterdam PCOS consensus. Fertil & Steril.
Janse F, de With LM, Duran KJ, Kloosterman WP, Goverde AJ, Lambalk CB, Laven JS, Fauser BC, Giltay JC; the Dutch Primary Ovarian Insufficiency Consortium. Limited contribution of NR5A1 (SF-1) mutations in women with primary ovarian insufficiency (POI). Fertil Steril. 2011 Nov 16. [Epub ahead of print] PubMed PMID: 22100173
Links