Shoroq Abu Hamad
Gender and Adolescence: Global Evidence (GAGE) program, Palestine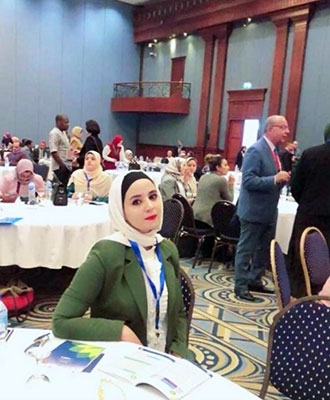 Shoroq Abu Hamad, B.Sc. Pharmacy, MPH Epidemiology
Qualitative researcher, Gender and Adolescence: Global Evidence (GAGE) program, Palestine
shoro2_1987@hotmail.com
I have finished B.Sc. in Pharmacy from Al-Azhar University and I have finished my Master degree of Public Health-Epidemiology from Al-Quds University, Palestine. Currently, I am studying at PhD program in Epidemiology- Public Health, at Alexandria University, Egypt. I am working as Qualitative researcher at Gender and Adolescence: Global Evidence (GAGE) program. Working in Qualitative and Quantitative research in GAGE program provided me a broad insight about Adolescents Adolescent Sexual and Reproductive Health in Palestine, in addition to further insights about other countries such as Jordan, Ethiopia and Bangladesh. Moreover, I worked in many international research programs on the SRH services such as evaluation of family planning and postnatal services.
Interestingly, the 2020 GFMER course provided me a unique opportunity to deep-dive and gain advanced knowledge about the Adolescent Sexual and Reproductive Health in order to build up my professional capacity
Publications
Bassam Abu Hamad, Sarah Baird, Nicola Jones, Agnieszka Małachowska, Erin Oakley with Kifah Banioweda, Riyad Diab, Shoroq Abu Hamad, Eman Abu Hamra, Ahmed Qandeel and Nadeen Al-Redaisy. "Living with the Covid-19 pandemic: adolescent experiences in the State of Palestine"- ODI, GAGE, August 2021.
N. Jones, S. Guglielmi, A. Małachowska, B. Abu Hamad, W. Yadete with S. A. Hamad, E. Abu Hamra, F. Alam, S. Alheiwidi, T. Alabbadi, N. Al-Redaisy, W. Amaireh, T. Amdeselassie, K. Banioweda, R. Diab, Y. Gebeyehu, K. Gezahegne, A. Iyasu, A. Qandeel, M. Sultan, K. Tilahun and F. Workneh "Some got married, others don't want to attend school as they are involved in income-generation': Adolescent experiences following covid-19 lockdowns in low- and middle-income countries" - ODI, GAGE, April 2021.
Shoroq Hamad, Eman Abu Hamra, Riyad Diab, Bassam Abu Hamad, Nicola Jones and Agnieszka Małachowska: "Exploring the impact of Covid-19 on adolescents in the Gaza Strip"- ODI, GAGE, June 2020.
Shoroq Hamad & Khitam Abu Hamad: "Determinants of overweight and obesity among university students in the Gaza Strip", Health in All Strategies Conference, Alexandria-Egypt, poster presentation, March 2019.
Links