Maryam Seif Hemed
GFMER Coordinator for Tanzania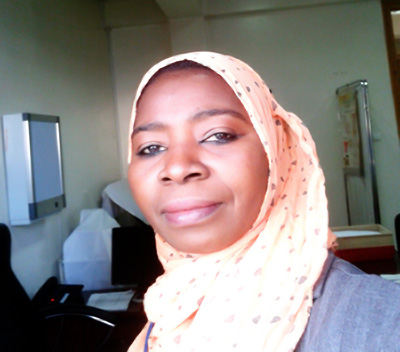 Maryam Seif Hemed, MMed, MSc (International Health Sexual and Reproductive Health)
Consultant Obstetrician and Gynecologist, Medical Services Directorate, African Union Commission, Addis Ababa, Ethiopia
Email: Hemed32@yahoo.com
Dr. Maryam S. Hemed is a sexual and reproductive health specialist and obstetrician and gynecologist with more than 12 years of clinical experiences. She is currently working as a consultant obstetrician and gynecologist at African Union Commission in Addis Ababa, Ethiopia.
Before her current position at African Union Commission, she worked as a hospital manager, reproductive health trainer, consultant and researcher. She is trained on experiential (adult) learning. Her main areas of interest are emergency obstetric care. Dr. Maryam received training on health research ethics and worked with the Ministry of Health Zanzibar as a secretary for Zanzibar Medical Research Ethics Committee.
Dr. Maryam is a medical graduate with Master level training in Obstetrics and Gynecology, International Health (Sexual and Reproductive Health) and has received various short trainings in the field of Sexual and reproductive health and research.
Besides her regular work at African Union Commission, Dr. Maryam is working on voluntary basis with a number of organizations and researchers including:
Maternity worldwide: In developing mobile phone apps for trainings on maternal health in developing countries.
Researchers from University of Denmark: Scaling up mobile phone application to improve maternal health in Zanzibar, Tanzania.
The Global Journal of Medicine and Public Health (based in India): Member, Board of Editors.
Although Dr. Maryam is currently based in Ethiopia, she has regular contact with the Ministry of Health in Zanzibar, Tanzania where she is supporting the scaling up of wired mother intervention for improving maternal and newborn health.
Publications indexed in PubMed
Tanzania Reproductive and Child health Indicators (Source: Tanzania Demographic and Health Survey, 2009/2010)
| | |
| --- | --- |
| Indicator | Level |
| Maternal Mortality Ratio per 100,000 live births | 454 |
| Births attended by skilled health personnel (percent) | 50 |
| Contraceptive Prevalence Rate (percent) | 34.4 |
| Adolescent Fertility Rate (births per 1,000 women ages 15-19) | 116 |
| Antenatal care with health personnel (percent) | 95.9 |
| Unmet need for family planning (percent) | 25.3 |
| Total fertility rate | 5.4 |
| Current use of contraception (Modern method) | 27.4 |
| Current use of contraception (Any method) | 34.4 |
| Women age 15-19 who are mothers or currently pregnant (%) | 23 |
| Median age at first marriage for women age 25-49 (years) | 18.8 |
| Median age at first intercourse for women age 25-49 (years) | 17.4 |
| Median age at first birth for women age 25-49 (years) | 19.5 |
| Children 12-23 months fully vaccinated3 (%) | 75 |
| Children under 5 years who are stunted (moderate or severe) (%) | 42 |
| Children under 5 years who are underweight (%) | 16 |
| Children under 5 years who are wasted (moderate or severe) (%) | 5 |
| Infant mortality (between birth and first birthday) | 51 |
| Under-five mortality (between birth and fifth birthday) | 81 |
| Women aged 15-49 ever experienced physical violence since age 15 (%) | 39 |
| Women aged 15-49 ever experienced physical or sexual violence committed by a husband/ partner5 (%) | 44 |
Useful links